Greeting From KAYAM SOLAR CORPORATION...!!!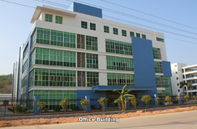 Since 2006 KAYAM SOLAR is in business of distribution of Industrial Products across India. KAYAM SOLAR is a company of "Kayam Solar Corporation Pvt Ltd."
KAYAM SOLAR is total TRUNKEY project solution provider for Solar
Photovoltaic projects in the Indian Market, KAYAM SOLAR actively undertakes Design, development, construction and maintenance of on-grid solar systems for commercial purposes. Our goal is to educate our customers in solar and help with its implementation and provide them the opportunity to contribute to reduce green house gas emission and help reverse global climate change. KAYAM SOLAR work on the principal of sustainable development.
We are Manufacturer and Suppliers in Solar Panel, Solar Batteries, Solar Inverters, Solar Charge Controller, Solar Power Plant, Solar Street Lights, Solar Water Heater, Solar Water Pump, Solar Air Conditioner, Solar Fan, Solar Air Coolers, L.E.D. Lights, Solar Lanterns, Torch, CFL Lights, etc.
Welcome In Kayam Group
Help Line:-
+91 98299 22208
Certificates & Achievements :-
Regd. In M.S.M.E. Govt. Of India.
ISO Certified Company.
Kayam Care:
+91 9024 254 254